Selecting the Right Rita Ranch Pool Service Provider: Things to Consider
When you're a pool owner in Rita Ranch, one of the essential tasks is ensuring that your pool remains clean, safe, and enjoyable year-round. While some pool maintenance tasks can be handled independently, many require professional expertise. That's where a reputable Rita Ranch pool service provider comes in. But with numerous options available, how do you choose the right one? In this article, we'll explore the key factors to consider when selecting a pool service provider in Rita Ranch.
Experience and Reputation
The first and foremost aspect to look for in a pool service provider is their experience and reputation. How long have they been in business, and what do their customers have to say about their services? A well-established provider with a positive reputation is more likely to deliver quality service. You can check online reviews, ask for recommendations from neighbours, or contact the Better Business Bureau to get insights into their reputation.
Services Offered
Different pool service providers may offer varying services. Some may focus solely on pool cleaning, while others provide comprehensive services, including maintenance, repairs, and even pool remodeling. Assess your needs and look for a provider that offers the specific services you require. Working with a company that can handle all your pool-related needs is often more convenient.
Licensing and Insurance
Ensure that the pool service provider you choose is licensed and insured. A valid license indicates they meet industry standards and have undergone the necessary training. Insurance is crucial to protect you in case of any accidents or damage during the service. Feel free to ask the provider for proof of their license and insurance.
Professionalism and Reliability
Professionalism and reliability are key factors when choosing a pool service provider. Do they respond promptly to inquiries? Are they punctual for appointments? Do they have a clear and consistent communication process? These factors indicate their commitment to providing quality service and a positive customer experience.
Technological Capabilities
In today's digital age, some pool service providers have embraced technology to enhance their services. Look for providers that offer online scheduling, automated reminders, and digital reporting. These technological capabilities can streamline the maintenance process and make it more convenient for you as a pool owner.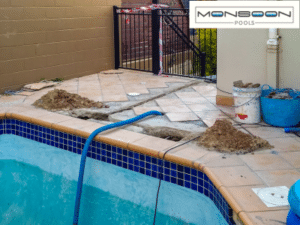 Pricing and Contracts
Compare pricing and contract terms from multiple pool service providers. While cost is a factor, it should not be the sole determining factor. Be cautious of providers offering significantly lower prices than their competitors, as this could signify subpar service. Review the contract carefully to understand the terms, including cancellation policies and any additional fees.
Customer Service
Excellent customer service is a vital aspect of any service-oriented business. Pay attention to how the pool service provider interacts with you during the initial consultation. Are they attentive to your needs and concerns? Do they provide clear explanations of their services and pricing? A provider that values its customers is more likely to provide a positive experience.
References and Recommendations
Feel free to ask the pool service provider for references or testimonials from their current customers. Speaking directly with satisfied clients can provide valuable insights into the provider's reliability, professionalism, and the quality of their services. It's an excellent way to get a firsthand account of your expectations.
Frequency of Service
Consider how frequently you need pool service. Some providers offer weekly maintenance, while others may offer bi-weekly or monthly options. The frequency of service should align with your pool usage and the specific maintenance requirements of your pool.
Environmental Considerations
If you're environmentally conscious, inquire about the pool service provider's approach to sustainability. Some providers offer eco-friendly pool maintenance options, such as using environmentally friendly chemicals and reducing water waste. Choosing a provider with green practices can minimize the environmental impact of your pool maintenance.
Emergency Services
Pool emergencies can happen, and knowing if your chosen provider offers emergency services is essential. Whether it's a sudden equipment malfunction or a water quality issue, having a reliable provider who can address emergencies promptly can save you time, money, and stress.
Warranty and Guarantees
Ask the pool service provider about any warranties or guarantees they offer on their work. A reputable provider should stand behind their services and be willing to address any issues that may arise after maintenance or repairs.
Conclusion
Selecting the right Rita Ranch pool service provider is a critical decision for any pool owner. By considering factors such as experience, reputation, services offered, licensing, professionalism, pricing, customer service, and environmental considerations, you can make an informed choice that ensures your pool remains in excellent condition. Conduct thorough research, gather recommendations, and ask questions before committing to a pool service provider. With the right partner, you can enjoy a clean, safe, and inviting pool year-round, enhancing your overall pool ownership experience in Rita Ranch.
Monsoon Pools is your trusted partner for comprehensive pool care. Our services encompass pool cleaning, meticulous repairs, and proactive maintenance. We understand the importance of a sparkling and safe pool environment, and our dedicated team is committed to ensuring that your pool remains in top condition throughout the year. With Monsoon Pools, you can enjoy worry-free and crystal-clear waters for all your aquatic adventures.