Choose the Right Pool Cleaning Service in Tucson
When it comes to maintaining a clean and sparkling pool, finding the right pool cleaning service in Tucson is essential. Regular pool cleaning not only enhances the aesthetics of your pool but also ensures a safe and healthy swimming environment. In this blog post, we will guide you through the process of choosing the right pool cleaning service in Tucson, so you can enjoy a pristine pool all year round.
By investing in a reputable pool cleaning service, you can save time and effort while ensuring that your pool remains clean, safe, and ready for swimming whenever you desire. Let's delve into the important considerations that will guide you in selecting the perfect pool cleaning service in Tucson, allowing you to relax and enjoy your pool to the fullest.
Determine Your Pool Cleaning Needs
Before selecting a pool cleaning service in Tucson, it's important to assess your specific pool cleaning needs. Consider the size of your pool, the frequency of use, and the type of debris commonly found in and around your pool. Some pool cleaning services specialize in specific types of pools or offer additional services such as tile cleaning or equipment maintenance. Understanding your requirements will help you find a service provider that meets your needs.
Consider the size and type of your pool. Is it an above-ground or in-ground pool? The dimensions of your pool will play a role in determining the level of maintenance required. Determine how often you want your pool cleaned. Some pool owners prefer weekly cleanings, while others may require less frequent maintenance. Factors such as pool usage, surrounding environment, and weather conditions can influence the cleaning frequency. Consider if you need any other services beyond basic cleaning. This may include pool equipment repair and maintenance, water balancing, chemical treatment, or pool opening and closing services. Assess if your pool has unique requirements or features that need particular attention. This could include complex filtration systems, water features, or intricate tile work that require specialized cleaning techniques. 
Determine your budget for pool cleaning services. Understanding your financial constraints will help you narrow down your options and find a service that aligns with your budgetary needs.
By considering these factors, you'll be able to articulate your pool cleaning needs more effectively when discussing with potential service providers. This will enable you to find a pool cleaning service in Tucson that can meet your requirements and provide the necessary care and maintenance to keep your pool in excellent condition.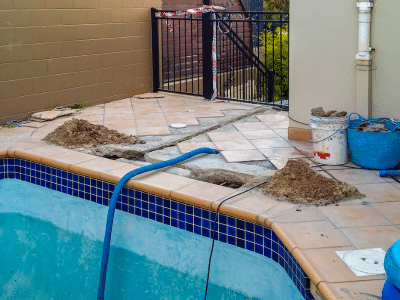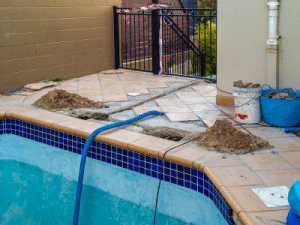 Research and Check Reviews
Take the time to research and read reviews about various pool cleaning services in Tucson. Look for companies with a positive reputation, extensive experience, and a track record of providing excellent service. Online platforms, such as social media and review websites, can provide valuable insights into the experiences of other customers. Additionally, seek recommendations from friends, neighbors, or local community groups who have previously used pool cleaning services in Tucson.
Verify Licensing and Insurance
It's crucial to ensure that the pool cleaning service you choose in Tucson is licensed and insured. A valid license indicates that the company meets the necessary requirements and has the expertise to perform pool cleaning services. Insurance coverage protects you from liability in case of any accidents or damages that may occur during the cleaning process. Request proof of licensing and insurance from the pool cleaning service before making a decision.
Ask About Service Offerings and Pricing
Inquire about the range of services provided by the pool cleaning company in Tucson. Besides routine cleaning, do they offer additional services such as equipment maintenance, repairs, or water chemistry testing? Understanding the scope of their offerings will help you choose a service provider that can address all your pool maintenance needs. Additionally, discuss pricing and any contract terms or packages available. Compare quotes from multiple companies to ensure you are getting a fair price for the services provided.
Evaluate Professionalism and Customer Service
Professionalism and customer service are vital factors to consider when choosing a pool cleaning service Tucson. Assess their responsiveness to your inquiries, their willingness to address your concerns, and their overall professionalism in handling your pool cleaning needs. A reliable pool cleaning service should prioritize customer satisfaction and be transparent in their communication.
Check for Guarantee or Warranty
It's beneficial to choose a pool cleaning service in Tucson that offers a guarantee or warranty for their work. This provides assurance that they stand behind the quality of their services and are committed to resolving any issues that may arise. A guarantee or warranty demonstrates the confidence and accountability of the pool cleaning service.
By following these steps and considering these factors, you can confidently choose the right pool cleaning service in Tucson that meets your needs. For a reliable and professional pool cleaning service, we recommend contacting Monsoon Pools. With their expertise, experience, and commitment to customer satisfaction, they provide exceptional pool cleaning services in Tucson.
Conclusion –
In conclusion, selecting the exemplary pool cleaning service in Tucson requires careful consideration and evaluation of several key factors. By following a systematic approach, you can ensure that your pool is maintained to the highest standards and that you receive reliable and efficient service.
Firstly, it is essential to assess your pool's specific needs, including its size, features, and any additional requirements. This will help you identify the range of services you require from a cleaning service, such as regular maintenance, equipment repair, or chemical balance checks. Next, conduct thorough research to find reputable pool cleaning services in Tucson. When evaluating different service providers, pay attention to factors such as professionalism, expertise, and customer satisfaction. Seek recommendations from friends, family, or neighbors who own pools or consult online review platforms for honest feedback.
Verifying that the pool cleaning service you choose is licensed and insured is crucial. This ensures you are protected from liability in case of accidents or damages during the cleaning process. Additionally, please inquire about the qualifications and experience of the service technicians to ensure they possess the necessary skills to handle pool maintenance effectively.
If you are in need of professional pool cleaning services? Look no further than Monsoon Pools!  Our team of experts is dedicated to keeping your pool in top condition and ensuring it's safe and healthy for swimming. Let us take care of your pool so you can focus on enjoying it! Contact us today to schedule a consultation and learn more about our comprehensive pool cleaning services.